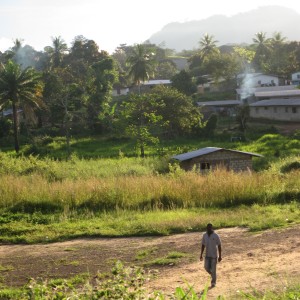 I've reported from Sierra Leone, Liberia, Guinea Bissau and Senegal, often for the Christian Science Monitor and occasionally with photographer Glenna Gordon, and the support of the Pulitzer Center on Crisis Reporting. Here are some highlights.
Explanatory journalism
The Peacebuilders: Making conflict resolution permanent
Christian Science Monitor Magazine cover story
An in-depth look, reported from four countries, at what we know about — and what we're learning the hard way — about ending war for good. This article won the 2011 Elizabeth Neuffer Memorial Prize Gold Medal.
The African Divide
Christian Science Monitor Magazine cover story
An in-depth look at how land conflict cripples the continent — and lies behind the well-known wars we thought we understood. Includes sidebars and a multimedia project.  First prize winner,"Reporting on a Significant Topic," the American Society of Journalists and Authors Awards, 2011.
News
He's Got the Law (Literally) in His Hands
Foreignpolicy.com
Libera's courts, lawyers, and even parliament don't have a physical copy of the country's legal code. Why a top law official is claiming a copyright on the books — and holding them hostage until he gets paid.  A Foreign Policy "Best of FP.com" editors' pick for 2009.
In Africa, justice for 'bush wives'
Christian Science Monitor
Sierra Leone's international tribunal changes human rights laws for women in war zones. This was the first story in the American press about the newest crime against humanity and won honorable mention in the American Society of Journalists and Author's Arlene Award for media that makes a difference.
Charles Taylor war crimes trial gets mixed reviews in Liberia
Christian Science Monitor
Charles Taylor is on trial in the Hague for war crimes he committed in Sierra Leone. But back in Liberia, where he was once president, he faces no charges — and his reputation stands up.
"Africa Must Take the First Step": A Q&A with Ellen Johnson Sirleaf
Newsweek
The popular Liberian president and former World Bank economist talks about looking for oil, Africom and Al Qaeda, and whether men can do as much for gender equality as women can.
Features
Forgive not Forget: Grassroots reconciliation in Sierra Leone (a three-part series)
Christian Science Monitor
Part I: Sierra Leone's 'family talk' heals scars of war
Meet John Caulker, a Sierra Leonean human rights activist using local traditions to foster peace, village by village.
Part II: Sierra Leoneans look for peace through full truth about war crime
Can local culture fill the gaps left after the truth and reconciliation commission?
Part III: A former rebel faces the Sierra Leonean farmer he maimed
Can Temba Kekurah forgive?
For fufu in Freetown, this African diner's the place
Christian Science Monitor
Portrait of a local diner, the woman who owns it, and what she's lived through.
Sierra Leonean designer redefines African couture
Christian Science Monitor
A profile of a young fashion designer eager to rebuild and rebrand her country — and how difficult that turns out to be.