Update: This post includes content from a few others on the issue.  Over the last few days, readers here and elsewhere have shared some very compelling thoughts.  For a roundup of ideas offered on this topic, from comments across this blog and elsewhere on the Internet, please see my newest post on the issue.
For a broader look at constructing a relationship between readers and writers when covering rape and trauma, see my January/February 2011 article in the Columbia Journalism Review (PDF here with permission).
For suggestions about meaningful consent in trauma journalism, check here.
Following a reader's wise suggestion, I have blacked out the woman's real name in the screen shot below of Mac's twitter feed.  Her real name was originally broadcast on Twitter but the magazine eventually ceased using it, substituting an initial.
Okay, all I know so far is what Mac McClelland is telling me.  But it's creeping me out.
She's live-tweeting the story of a rape survivor. Live-tweeting the interview, I assume. I heard about it @MotherJones, where Mac is a staff writer and has done some stupendous, we-should-all-thank-her work on the BP oil spill/scandal.  I also really love Mother Jones, which is still ballsy enough to be home to important reporting.  But this wasn't so well thought out.
MoJo retweeted staff writer Stephanie Mencimer's tweet: "Awesome @macmcclelland is tweeting a horrific story about rape survivor in Haiti. Follow, but be prepared: serious stomach turning. Follow!"
I heard about it 30 seconds before I clicked on Mac's Twitter feed and took the screen shot below.  That was 20 minutes before I wrote this blog post (based on my Twitter status).  So I don't know what's happened since the screen shot.
I have three problems — huge, huge problems — with this:
1. Basic 101 of interviewing trauma survivors* is to make sure they're in control of the experience that is the interview. Why? Common human decency is one reason. Another reason is that the experience they're telling you about is one of utter powerlessness; it's your duty as a journalist to restore as much power to that re-telling as possible.
That includes, I think, letting them tell the whole story before you broadcast it to the world. There may be details that they don't get right the first time and they call you to correct. They may tell you something that later they regret and ask you not to use — and it's within your rights as a journalist to grant that request, if it doesn't compromise the story. The point is, they need to have the power to ask.
2. Basic Trauma 101* is that the trauma narrative is often confused for survivors — although "confused" is valued language that comes from the world of the non-trauma survivor. For the trauma survivor — and especially for survivors with PTSD, who are literally re-living the story, sometimes as they tell it to you — time is not sequential. The story does not come out in a chronology. (And for a really good book about this, and how important it is to listen as long as you need to, as many times as you need to, to understand, see On Listening to Holocaust Survivors by Henry Greenspan.)
Why's that relevant here? Two reasons. One, Because presumably you're asking the survivor to share her story for some larger purpose — presumably there's something others need to understand by listening to her. Otherwise it's just voyeurism, and you should go home. (I'm not accusing Mac of voyuerism.) But you need to listen through the whole story to understand what that is, and then you need to frame it for us.
Two, you just un-ordered her story because the medium demands it. The nature of her experience may also have un-ordered it. This is closer and more literal to the risk that is "journalism as trauma" than I am comfortable with.
3. If she felt that her story were best served by live-tweeting, she could do it herself. Journalists presumably bring editorial skills to a survivor's story that the survivor values. If tweeting the rape story is the way to tell the rape story, then we don't need the journalist.
Update:  Since this post got picked up by The Altantic Wire, I'd like to pull from another post the following and put it here, because I think it's important:
One, you can handle all those concerns I raised above and tweet the story responsibly — if you don't do it live.  Use the digital illusion of a story you've already reported unfolding in real time over Twitter; you don't need to actually be there tweeting it as it unfolds.  I still think Twitter is too ephemeral a tool for something as serious as rape, but this is one way to do it more responsibly.
Two: To write responsibly about rape, you have to think not only about the rape survivor who is your subject — although that's primary — but about your reader, as well.  If you're reader can't figure out how you got the information, they're going to be ethically uncomfortable.
I saw that in other people's responses to the "rape feed."  The journalist didn't explain the rules of the game before starting; she just launched in.  We didn't know what we were in for — it did, indeed, look at first like we were going to get a grisly rape story, tweet by tweet, and then the story changed.  We were in a doctor's office.  But how did we get there?  Do we feel okay about being there?
For example: Tweeps (I hate that word) had concerns about whether the victim had given consent and whether she should be named.  I didn't share these concerns — I gave MoJo the benefit of the doubt on both — but clearly Mac/MoJo would have done everyone a favor if they had stated this up front.
There's a fine line for journalists who cover trauma.  How do you balance making the reader ethically comfortable with you, the journalist, and making the reader morally uncomfortable with the violence that happens in the world?
This is what trauma journalists are trying to do.  They aren't sanitizing stories or giving you the "golly gee whiz I came through it stronger" hopeful Hollywood ending.  They are trying to be honest about the story, and honesty about brutal violence should make us uncomfortable.  That has to happen.  But readers shouldn't ever feel uncomfortable about the journalist's practice.  The minute the reader stops trusting the journalist, the story is lost.  And that's a disservice in many ways, but above all to the woman who's story the journalist was trying to tell.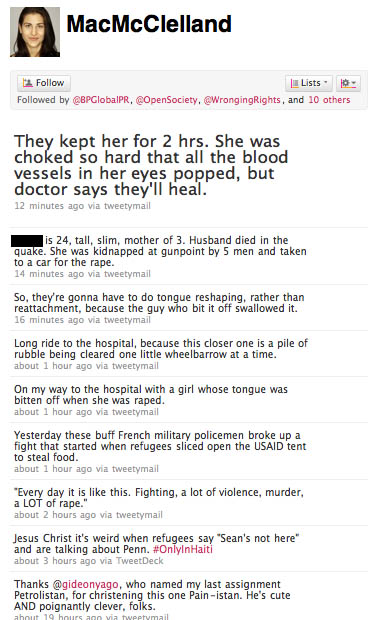 One more thing: Mac's newsfeed goes straight from "whatever I was just thinking" to "now I'm telling a rape story."  That's jarring for "readers."  Also, the self-promotional background seems incongruous to the subject (I didn't include it in the screen shot, but it's wallpaper of the cover of her book on Burma).  I'm not trying to be snotty here; I think it's a real concern.
Someone on Twitter told me, "Not every story needs to be told in every medium available."  I think that's right — and as cool as this whole social media thing is, we need to be extra careful about using it responsibly.  Because if we're not, then we are getting dangerously close to voyeurism, whether or not we intended to.
To MoJo if they come across this: What was the editorial discussion that went on before this feed started?  What kind of editorial direction is Mac getting as she tweets?
*For absolutely essentially professional resource for journalists covering stories of trauma and survival, please (please, please) visit the Dart Center for Journalism and Trauma.